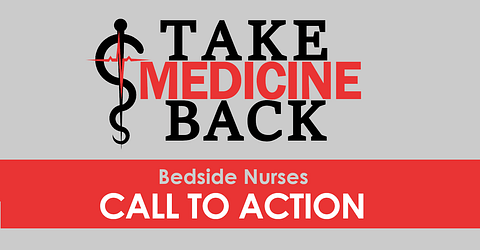 The DOJ and FTC are requesting feedback on merger guidelines from real people as opposed to corporations. The leaders of TakeMedicineBack believe that the DOJ and FTC are under-informed about consolidation of the healthcare system and the growth of private equity (PE) ownership in medicine. Take Medicine Back believes that the voices of bedside nurses and allied clinical staff MUST be heard.
You can post anonymously at:
https://www.regulations.gov/document/FTC-2022-0003-0001
Your comments can be anonymous. They do not have to be long or referenced. Speak from the heart. We suggest you comment on any of the following you feel comfortable with:
If your hospital recently merged or was bought out…
How did nurse:patient staffing ratios change?

How was your job affected? Did your pay or benefits change?

Do you feel intimidated to speak out about patient safety issues for fear of job loss?

Have patient safety policies changed?

If the physician or provider staffing group you work with changed or was bought out, how did the quality of care change?

Do

you have less access to board-certified attending physicians?

Did the ratio of nurse practitioners and physician assistants to board-certified attending physicians change?

How did this affect the quality of care for your patient s?
You can consider following this framework:
I am a bedside [nurse/ respiratory therapist/ technician] working in the [department] who is very concerned by corporate mergers of hospital systems and physician and provider staffing groups. My ability to care for patients has become handicapped after my hospital merged with a larger chain. Our patient to nurse staffing ratios have increased such that it is no longer safe for patients. We do not have adequate staff to clean rooms between patients, care for the critically ill, or tend to their basic needs. We have difficulty reaching board-certified attending physicians for patient care as their hours have been cut, they are over burdened, and/or have been replaced by a multitude of non-physician practitioners while patients are still charged for physician visits. I went into nursing to care for patients, yet I've found that corporate mergers and a "profit over patients'' mentality is making this impossible. I am strongly considering leaving [or have left] nursing as are many of my colleagues. This is a public health crisis. We need to return to local, community investment in healthcare and medicine, not victims of external profiteering.
You can post anonymously at: