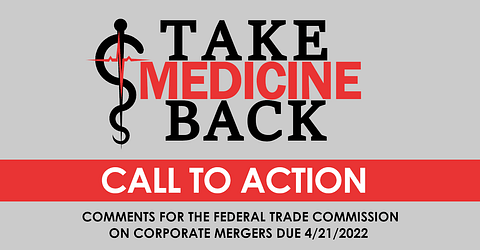 Call to Action: Comment from the patient perspective on Department of Justice (DOJ)/Federal Trade Commission (FTC) review of mergers
You can post anonymously at:
https://www.regulations.gov/document/FTC-2022-0003-0001
The DOJ and FTC are requesting feedback on merger guidelines from real people as opposed to corporations. The leaders of TakeMedicineBack believe that the DOJ and FTC are under-informed about consolidation of the healthcare system and the growth of private equity (PE) ownership in medicine.
Your personal stories are important to our efforts to draw the attention of these agencies to the corporatization of medicine. Your comments can be anonymous. They do not have to be long or referenced. Speak from the heart. We suggest you comment on any of the following you feel comfortable with and/or are relevant to you:

Effects on your experiences as a patient in terms of quality of care, cost, access to qualified professionals, and loss of trust in hospitals and medical groups owned by private equity. Example: Mission Hospital Network in Asheville, NC now owned by Hospital Corporation of America (HCA)

Closure of rural facilities forcing patients to drive hours in an emergency or even to give birth

Loss of a long-term, trusted primary care physician resulting from corporate mergers and acquisitions .

Difficulty accessing specialist care within a reasonable distance of your home.

Billing practices that surprised you, were unfair, or caused you distress
Here is a sample statement that you can adjust for your circumstances:
"I am a [patient] [family member of a patient] who has been negatively impacted by the rapid consolidation of the United States' healthcare system by under-regulated mergers, and private-equity acquisitions. My local hospital merged with [large hospital group name], and since then, cost has gone up, quality of care has gone down, and access has become more limited.
[Personal experience if applicable based on the list above or other. Examples: My primary care has been a revolving door since PE took over my network. The physician I had for years left, and now I keep getting passed around; The last time I was hospitalized, the nurses were so overworked and understaffed that I did not receive proper care; I was billed improperly or for physicians who never saw me. My hospital is now contracting with Wall Street-owned staffing groups that place profits over patients, are responsible for over-billing, and under-staffing physicians.]
I urge the Federal Trade Commission to take strong action to reverse mergers that are actively harming patients and scrutinize future mergers of hospitals and physician staffing groups."
You can post anonymously at:
https://www.regulations.gov/document/FTC-2022-0003-0001
Patient & Patient Advocate Call To Action