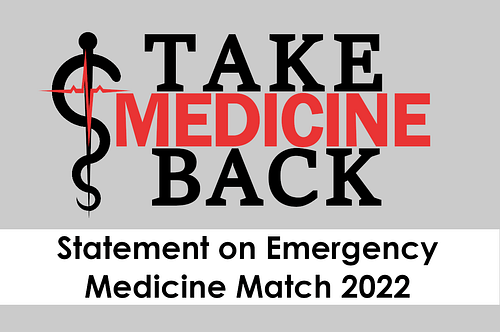 03/21/22
Take Medicine Back is alarmed but unsurprised at the results of the 2022 Emergency Medicine (EM) Match. While 81 new positions were added between 2021 and 2022, an unprecedented 219 EM positions remained unfilled as of March 14th, according to the National Residency Matching Program. This is in stark contrast to the 14 unfilled positions last year, representing a 15-fold increase in unfilled EM positions despite a disproportionately small (2.5%) growth in total EM positions. This is partially due to EM seeing the largest decrease (-17%) in applicants among all specialties compared to the previous year (AAMC).
The specialty of emergency medicine is experiencing tremendous interference from an explosion of private equity-backed contract management groups (CMGs) that prioritize profits over patients. To service high-interest debt and produce profits for external investors, austerity measures lead to a push to replace board-certified emergency physicians with non-physician practitioners and intentionally understaff emergency departments. Many have cut pay or hours during the pandemic despite the CARES Act corporate bailouts. Some CMGs also deny employed physicians due process rights, placing them at risk of termination without recourse when raising concerns about patient safety.
Sentiments of exploitation are unsustainable for the EM workforce, while CMGs' exploitation of patients forces physicians to violate their oath to "do no harm," leading to moral injury. Current conditions are discouraging the best and brightest from pursuing a career in emergency medicine.
We are also witnessing the rapid growth of new, lower-quality residencies designed primarily to employ cheap labor rather than to promote the medical education of young physicians. This strategy is also utilized by corporate hospital groups, such as the Hospital Corporation of America (HCA), which claims to be the largest sponsor of graduate medical education in the country. HCA residencies alone accounted for at least 51 of the 219 open EM spots. This overproliferation of residencies is generating an oversupply of emergency physicians, which drives down compensation nationally, creating a labor monopsony and further increasing profit margins. Between 2012 and 2021, the number of emergency medicine residency programs increased from 160 to 265, with a shocking 77 new programs accredited in 2019 alone. The American College of Emergency Physicians released a report last year projecting a surplus of 9,413 emergency physicians by 2030, a nearly 40% oversupply. This echoed previous articles by Dr. Mark Reiter and the American Academy of Emergency Medicine in which they predicted the looming excess of EM physicians in 2016.
Take Medicine Back calls for swift condemnation of the corporatization of emergency medicine. Without action, the consolidation of private equity-backed CMGs will continue, ravaging the EM workforce and the only universal medical safety net in America. We strongly support the American Academy of Emergency Medicine/Resident Student Association's (AAEM/RSA) call to purge our specialty societies of the influence and funding of corporate entities in their Open Letter to the Specialty of Emergency Medicine in April 2021. The 2022 EM Match results should serve as a wake-up call for EM leadership to make disabling the corporatization of emergency medicine our number one priority. We need a strong stand against private equity ownership of EM and the unethical behaviors that accompany it. We must recognize this as an existential threat to the specialty and take collective, coordinated action without delay.

Take Medicine Back invites all Emergency Medicine organizations to endorse this statement.